2D Mapping and 3D Modelling
For 2D mapping, 3D modeling and Surveying, our drones provide super sharp aerial imagery and accuracy. We can fly at heights up to 120m/400ft, capturing wide aerials and move in close for incredible detail.
We can capture 360 degree panoramas at specific altitudes and provide 3D modeling, all in a fraction of the time other methods would take and with no environmental impact.
UAVs for orthophoto images and aerial mapping is not surprising getting more and more popular.
Using our GPS enabled drones for aerial surveying is a cost effective tool when compared to traditional aerial mapping methods using full sized aircraft.
Applications:
Oil pipeline inspections
Boundary dispute resolution
Gas pipeline inspections
Solar panels
Powerline and cable inspections
Cooling tower inspections
Forestry
Wind turbine inspections
Bridge inspections
Counting of animal populations
Train line inspections
Monument inspections
Here is a map we recently completed Donegal County Council
Over 1000 orthophoto images were taken and stitched together to produce this highly detailed 2D map.
The end result was a 345mb image that if printed would of been 10ft by 7ft…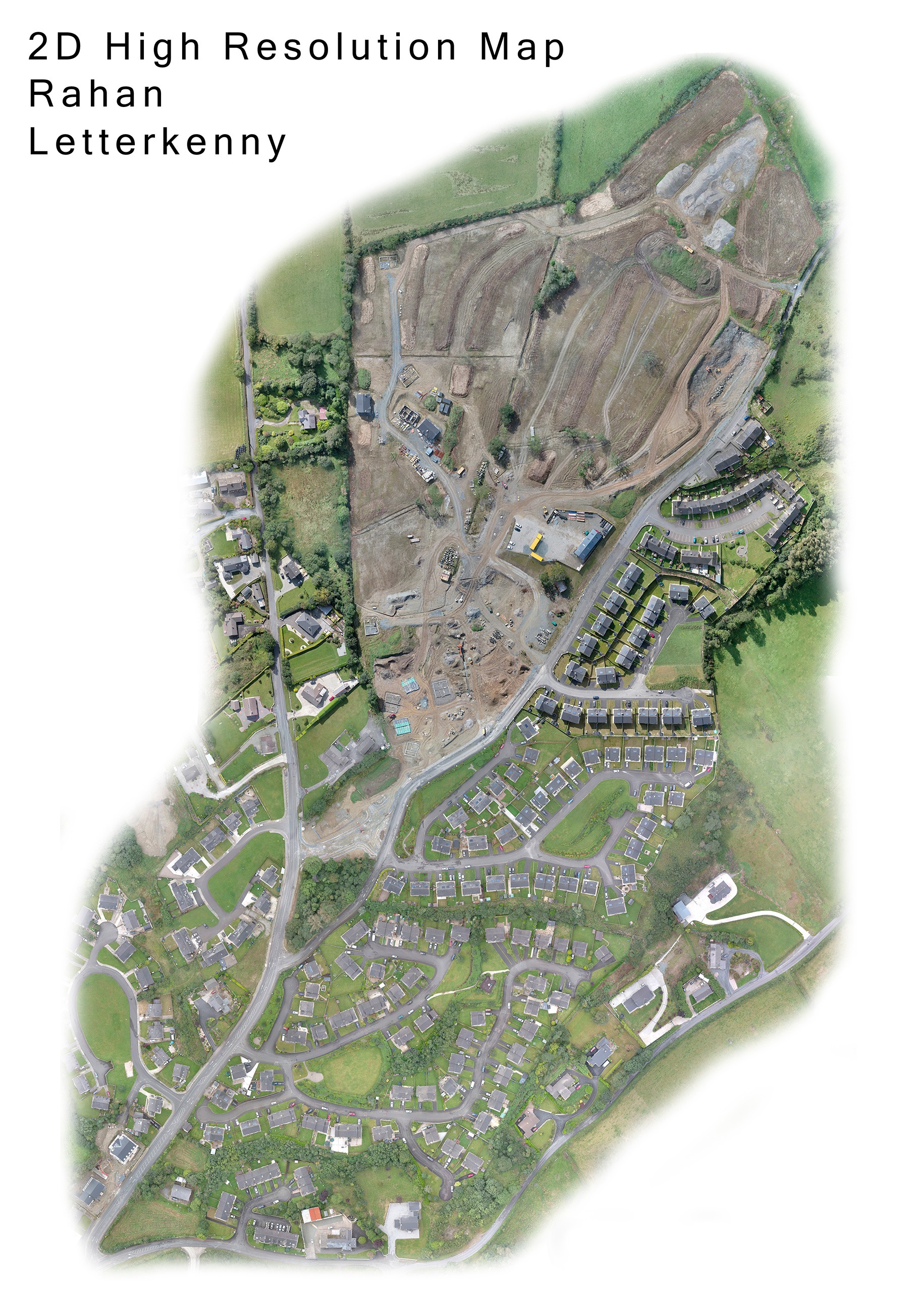 3D Modeling
Using highly sophisticated software with our drones. We are able to capture 3d models of structures and construction sites.
With these highly accurate models, we can give you a new insight on how to save money, use fewer resources and speed workflow up.
Orthophoto's (geospatially corrected aerial images)
3D Building Models
3D Model of building sites
Volumetric Surveys
3D Models of Statue or Monuments
How useful would this be to you and your company?
What is photogrammetry used for?
Your business will benefit from increased efficiency and reduced costs, instead of using traditional methods.
Forestry Management and Planning
Mapping and Cartography
Urban Planning
Coastline Management
Transport Planning
Volumetric measurements and Exploration
Now there is no reason to send engineers and surveyors out on to sites to take surveys or send workers up tall hard to get to structures. A simple flyby can reduce the risk and injuries to your workforce. Create accurate maps which can then be interpreted in a number of ways.
Why not fill in our enquiry form or give us a call to discuss your needs and see how we can be a benefit to your business.
Construction Progression Reports
We can do construction progression reports with photography, video and 360° photography.
Providing a visual report of the progression of a build over time from start to finish.
How Does This Work?
Working with your team, we will arrange to be at the site on a daily, weekly or monthly basis.
We can then take the photos from the same spot each time. This will allow you to see the changes from time to time, a great way of keeping track of projects in a quick and convenient way.
Your team can then verify changes throughout the build with the high resolution construction site photography.
If you decide to go down the 360° photography option or as its sometimes known, panoramic construction progress photos, your team will be able to view the build in a similar way to Google Street Maps. 
It's as good as being on site without the need for travel or the risks associated with being on site.
What Are The Benefits?
Your team will save valuable time with fewer visits to the site, improving the management of the project. With the added benefit of been able to share the photos and/or video progression with the stakeholders at any time.
The construction site photography or virtual tours will also provide a valuable permanent visual record of the build!