2D Mapping – Construction Progress – Inspections 
For 2D mapping, Construction Progression Reports, Inspections and 3D modeling, we provide super sharp aerial imagery and accuracy with our drones.
We can fly at heights up to 120m/400ft, capturing wide aerials and move in close for incredibly detailed shots and filming.
We can capture 360 degree panoramas at specific altitudes and provide 3D modeling, all in a fraction of the time other methods would take and with no environmental impact.
UAVs for orthophoto images and aerial mapping is not surprising getting more and more popular. Using our GPS enabled drones for aerial surveying is a cost effective tool when compared to traditional aerial mapping methods using full sized aircraft..
Applications
Construction Mapping | Wind Turbine | Inspection | Land Boundary | Disputes | Monument Inspection | Estates Managers | Bridge Inspection | Cemetery Mapping | Roof Inspection | Solar Panels | Real Estate | Forestry | Architecture
Construction Progression Reports
We can do construction progression reports with photography, video and 360° photography.
Providing a visual report of the progression of a build over time from start to finish.
How Does This Work?
Working with your team, we will arrange to be at the site on a weekly or monthly basis.
We can then take the photos from the same spot each time. This will allow you to see the changes from time to time, a great way of keeping track of projects in a quick and convenient way.
Your team can then verify changes throughout the build with the high resolution construction site photography.
If you decide to go down the 360° photography option or as its sometimes known, panoramic construction progress photos, your team will be able to view the build in a similar way to Google Street Maps. 
It's as good as being on site without the need for travel or the risks associated with being on site.
What Are The Benefits?
Your team will save valuable time with fewer visits to the site, improving the management of the project. With the added benefit of been able to share the photos and/or video progression with the stakeholders at any time.
The construction site photography or virtual tours will also provide a valuable permanent visual record of the build!
Below Is a Construction Progression Video In The Making
Drone mapping is a great way to save money and improve workflow on construction sites and builds.
2D Maps are created when a drone captures hundreds or thousands of orthophoto pictures, that are stitched together producing highly detailed accurate maps. We can also produce Elevation maps showing where the ground is low and high... 
"why not just use google maps?" you may be thinking...? Well, you could but it won't be up to date, Google maps can be up to 4 years old and the resolution will have no comparison to drone aerial mapping which will be 20 times better than Google Earth! You can also update your aerial map as often as you want, this is a great way to track construction progression...  
---
Here is a map we completed for Donegal County Council
Over 1000 orthophoto images were taken and stitched together to produce this highly detailed 2D map. The end result was a 345mb image that if printed full size would have been 10ft by 7ft at high resolution…
( NOTE: This image isn't the full resolution, contact us for a sample image)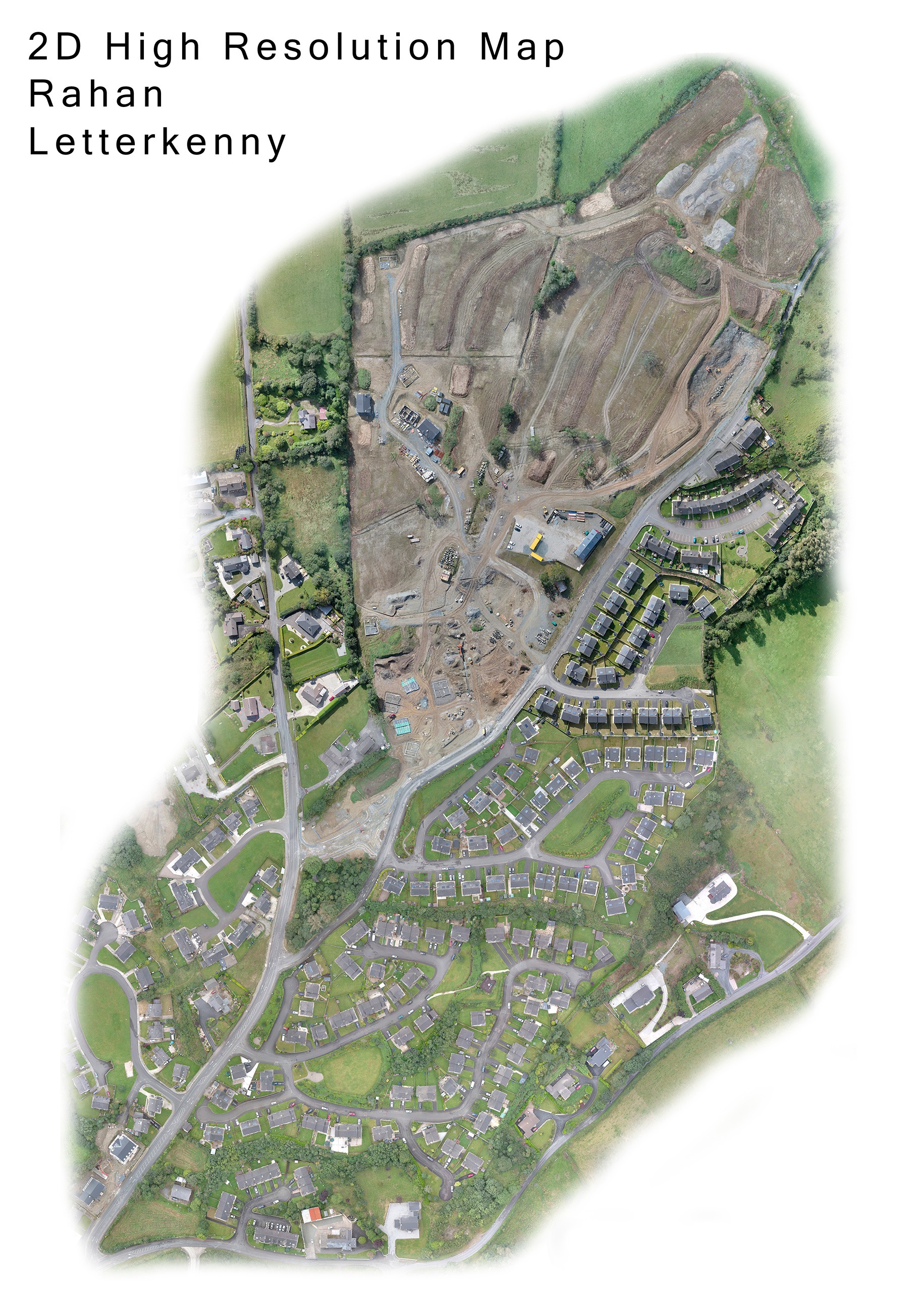 Inspections of modern or listed buildings, bridges, windmills, solar panels, chimneys or roof inspections can be extremely costly and time consuming.
Using the old methods of cherry pickers and scaffolding is dangerous and hazardous for workers.
Spending just one day on most sites with our drone, we can capture up close, high quality photography and or 4K video of the building or property to be inspected!
Using drones for inspections ensures an accurate report before repairs and maintenance are carried out, saving you time and money.
3D Modeling
Using highly sophisticated software with our drones. We are able to capture 3d models of structures and construction sites.
With these highly accurate models, we can give you a new insight on how to save money, use fewer resources and speed up workflow.
Orthophoto's (geospatially corrected aerial images)
3D Building Models
3D Models of Building Sites
Volumetric Estimates
3D Models of Statues or Monuments
"How useful would this be to you and your company?"
What is the photogrammetry used for?
Your business will benefit from increased efficiency and reduced costs, instead of using traditional methods for:
Construction Builds and Projects
Urban Planning
Infrastructure Planning
Coastline Management
Mapping and Cartography
Forestry Management and Planning
Volumetric Measurements and Exploration
Now there is no reason to send engineers and surveyors out on to sites to get an overview of construction or send workers up tall hard to get to structures. A simple flyby can reduce the risk and injuries to your workforce. Create accurate maps which can then be interpreted in a number of ways.
Why not fill in our enquiry form or give us a call to discuss your needs and see how we can be a benefit to your business.
Cemetery Mapping Survey
Using drone technology is a great way of accurately mapping out grave yards and plots
There are many benefits to organising grave records, as I'm sure anyone working in this area knows. Using drones for mapping out graves yards is accurate and far more cost effective than a detailed survey which can take days or even weeks to do and is very costly to do. A drone could map a large area in around two hours.
Many cemeteries are still using paper records going back decades. Over time many plots may not correspond to existing maps properly. Getting plots mixed up is a costly mistake as well as deeply embarasing
"How much time, money and frustration will this save you?"
Enquire Here!