Real Estate Photography and Filming

At Top Drone we work carefully to assess what you need to market your property successfully.

We all know how important it is when selling property to have the best possible images to promote the property to it full potential. Using advanced UAVs we can offer cost effective aerial HD video combined with high resolution photos.

As well as incredible pictures and video footage, we can offer you 360 degree virtual tours and video walkthroughs filmed using a handheld gimble to get quick, smooth HD footage inside you're property. Saving you time and money.

Take a Virtual Tour by using your mouse to move around...
Ideal For Real Estate Agents 

Why not take a virtual tour around this lovely cosy home.

What better way is there to show potential clients what their dream home will be like on your website? 

Show your properties to there full potential with a 360 virtual tour.

Ideal For Home Buyers 

Want to get a better look and feel of a home before viewing? 

What better way is there to see what your dream home will be like? No more wasted time and journeys…

View from the comfort of your home. Or use a Virtual Reality headset!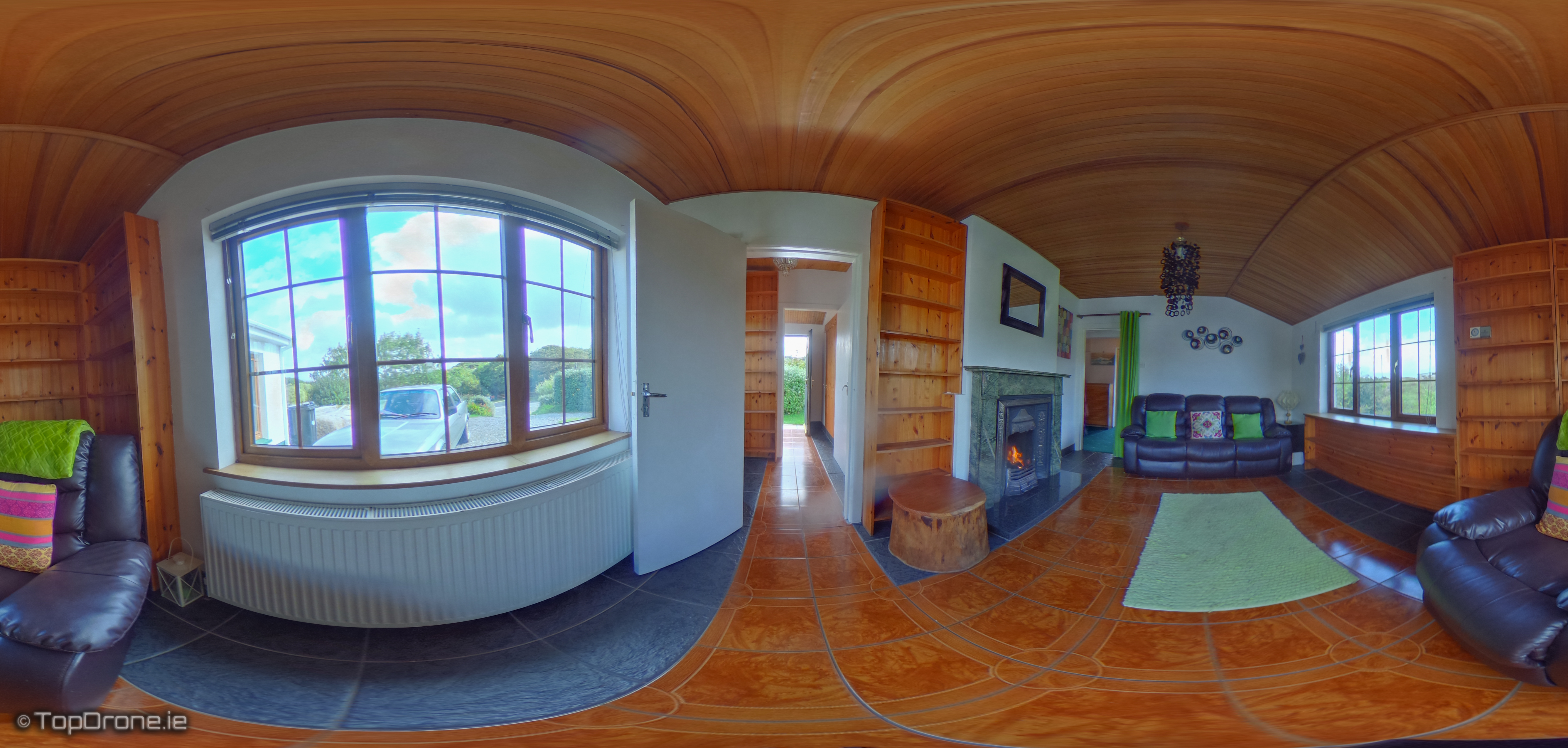 A 360° real estate virtual tour offers worldwide access to your listing 24 hours a day giving you that extra marketing edge over your competitors.
This is a world where at any given time your listing is working for you. Very soon, most of the real estate companies will have a virtual tour as a necessary tab on their web listings, so with your interactive tour, you will have the upper hand.
Our 360° virtual tours can help your sales. Cut the walking around in half with showcasing some of the property's best assets with the tour. So now is the time to get ahead of your competitors and showcase your properties with a virtual tour.

Ideal for Real Estate, Farming, Hotel & tourism across all of Ireland.
Clients will get a much better idea and feel for a home. The size of the property and the surrounding area. The garden, the views and the lay of the land. How many clients have you shown around a property and they have said that it is not what they had imagined?
Homes that may look plain at ground level can be given a new lease of life from an elevated viewpoint.
Do you have a number of properties that need to be professionally photographed and filmed? We provide very competitive rates for estate agents for aerial photography and videography for regular work.
Why not give your property portfolio that extra sales push by combining aerial photography, aerial videos, video walkthroughs and 360° virtual tours from Top Drone.
Aerial photography and aerial videos use to be an expensive option, only available using helicopters. Now, with the use of drones and a skilled pilot, it is much more accessible, readily available and more cost-effective.

Aerial property photography for estate agents is a fantastic way of selling houses and staying high above your competition. We use the best UAV quadcopter drones, equipped with professional 4K cameras to take aerial photographs and video to help you sell your homes and properties.
Do you have a holiday home? Do you use airbnb to rent out your home or rooms? We have customisable packages to suit your needs. You want great photos, videos, video walkthrough, 360° virtual tours? You want the whole package? Why not get in touch with Top Drone to see what we can do for you.
We will carry out a risk assessment before starting a job and adhere to strict safety procedures, approved by Irelands IAA. Top Drones first priority is the safety of the public, staff, wildlife and the property on all of our shoots...

The Magic Number
Virtual Tour
What Are You Waiting For?
It costs nothing to ask...drop us a message to see how we can help you!