Top Drone's aim is to deliver affordable drone services. Our mission is to provide a fast friendly professional service dedicated to making the very best videos and producing amazing photography for our clients.
We are certified by the IAA (Irish Aviation Authority) and the CAA (Civil Aviation Authority), registered with EASA (European Aviation Safety Agency) and have public liability insurance, all required to legally fly a drone in controlled airspace. The Pilots at Top Drone are professionally trained by Safe Drone Academy and UAVHUB.

 We have Operational Authorisation approved by the IAA, to operate in A2 Open and Specific category STS/PDRA.
Specific category requires increased technical mitigation. UAS operators may have to add additional equipment to their drone in the form of Flight Termination Systems (FTS) and ground impact dynamic reduction (e.g., parachutes) for higher risk operations.
We are also members of the Unmanned Aircraft Association of Ireland (UAAI) and always complete the job professionally, safely and legally.
As well as drone filming and photography we offer a range of drone services including 2D mapping, construction progression reports, aerial inspections of assets and filming and photography services for real estate and architects who need the very best!
Safety is always our first priority. Every job will be properly risk assessed, considering any obstacles or problems that may affect filming. Flights in controlled airspace (near airports, etc) will be organised by Top Drone and approvals acquired prior to flying.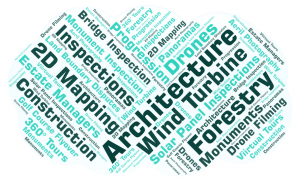 The equipment
We use extremely well engineered drones, using a brushless gimbal mounted to an incredible 4K camera enabling us to capture silky smooth and stunning aerial cinematography. We also use DSLR cameras equipped with gimbals and a range of lenses for groundwork.
Unlike traditional helicopters or fixed wing aircraft, drones are able to get so much closer to the action and get into places inaccessible for helicopters, giving a unique vantage point.
Top Drone's Aerial Photography and Aerial Videography services take photography and filming above the reach of a normal photographer. Just have a look at our portfolio to see the unique views and angles that would not be possible with conventional photography.
If getting the right shots is important to you, then make sure you contact Top Drone for all your Aerial Photography and Aerial Videography needs for the best prices. We are based in Donegal and offer drone photography and cinematography solutions throughout all of Ireland. We will also travel almost anywhere around the world if required...
Thank you for visiting Top Drone and please feel free to contact us with your requirements to see how our solutions will benefit you and your business.
Copyright Ownership of 

Captured

 Media and Images
Top Drone retains the original copyright to all video and photography captured by them unless otherwise stated and we may use the captured media for our own purposes, ie portfolio, advertising purposes or for resale.
All filming and photography captured by Top Drone are owned by the creator Top Drone unless prior written contract or signed written arrangement is made beforehand.
If the client wishes to own, edit or use the copyright, they must agree with Top Drone that the copyright will be transferred to them. The client should make sure that the agreement and any transfer of the copyright is in writing. Otherwise, it will be deemed ineffective under Irish law to transfer the copyright.
Why Use Top Drone?
Licensed

We are IAA and CAA certified and adhere to all current IAA (Irish Aviation Authority) and CAA (Civil Aviation Authority) guidelines.

Insured

We operate with full Public Liability Insurance. If you hire an uninsured drone pilot you could be held liable for any accidents or damage caused.

Competitive Pricing

We will match any genuine quote...
---